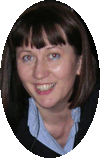 I was born on a Sunday in May 1964 on a farm in the Waldviertel as
the third of four children. My mother soon realized my artistic
tendences. She was a fully-qualified textile designer in Vienna who
came to the Waldviertel because of my father, a farmer, and her love
to nature.
My creativity was encouraged by her appreciatory words.
She said for example "You`ve done a good line!"
We, the children, grew up with Michelangelo, Dürer, Jugendstil, Art
Deco etc., as well as with her drawing talent. Above all, she taught
me how to see and to bring out the beautiful things of life using
"Goldener Schnitt",which already the old masters used.